Towels, Pads and Wipes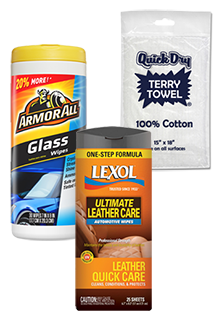 If you manage a car wash, you can't do without a sizable supply of quality car cleaning towels on hand at all times. Don't settle for cheap car wash rags or drying towels that quickly fall apart—make sure that you carry only the most dependable chammies and microfiber detailing towels currently available. You can always come to Superior Car Wash Supply for the best car wash towels around.
Our large product inventory includes a variety of car drying cloths and towels for sale at wholesale prices, so you can buy in bulk. These microfiber towels for cars make excellent vending supplies, or car detailing accessories for your employees. See below for more info on our microfiber towels and related cleaning items. We have the lowest prices in the nation. GUARANTEED!