Hydraflex Chemical Injectors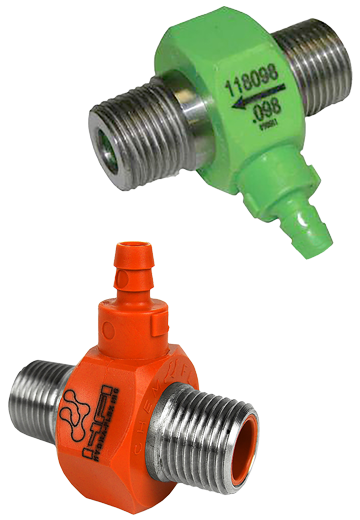 The heart of our Aqua-Lab Chemical Dispensing System, Chem-Flex Injectors are color-coded based on the water flow needed for each individual application, and combine with color-coded chemical metering tips to proportion the precise chemical mix ratio. Choose between Standard - SST or All-Composite injectors.
Chemical-Resistant -
Chem-Flex injectors are one the most chemical resistant injectors on the market. These long lasting injectors are manufactured using Kynar® Venturi inserts, stainless steel connections, a Hastelloy® spring, a Teflon® check ball, and an exclusive XFC o-ring material.
Durable -
Dual material construction combines the excellent corrosion and chemical resistance of Kynar® with the mechanical strength of stainless steel. NPT injectors now use 316 stainless steel for longer life.
Reliable -
Because of their Kynar® molded wetted surface, Chem-Flex Standard Injectors can last 2-4 times longer than injectors machined from stainless steel or brass.